SEO For Wedding Planners
We offer the best SEO for Wedding Planners. This page contains a full case study and SEO tips for wedding planners and specifically how we boosted one of our wedding planners to over $550,000+ revenue yearly. It wasn't easy, it took us many months and hundreds of hours of hard work.
How much does a wedding planner make? Clare earns $550,000 USD yearly.
A wonderful wedding planner named Clare found us through a Google search while looking for a digital marketing agency. Clare is from the United States. Well, to be fair, she's all over the world. She does wedding planning basically in any country. The COVID lock-downs presented many challenges to her business as you can imagine. There were many cancellations, reschedules, conflicts in scheduling, and many unhappy brides who weren't able to do their wedding on their terms.
Wedding planner SEO is hard but worth it, here's Clare's before and after
| | | |
| --- | --- | --- |
| Metric | Before | After |
| | | |
| Revenue | $40k | $550k |
| Ranking | 0 | 425+ |
| Monthly visits | 0 | 3,500+ |
| Conversion rate | 0% | 5% |
| Bounce rate | 77% | 41% |
| Session duration | 0:50 min | 4:50 min |
| Audit scores | 40/100 | 95/100 |
Before and after stats
As soon as she contacted us, we began researching her website in detail to see what we could do within her budget and timeline. Her website needed to be fixed. The initial Google audit score was 40 out of 100, which is below average. Every month, she had zero visitors from Google and she ranked for zero specific keywords for wedding planners. Her conversion rate was therefore zero.
The $40,000 that she was earning was basically from referrals and advertising that she did from time to time. Over 200 factors were considered in this particular case. A video presentation, PDF report, a spreadsheet, and a price quote were emailed to her, and after a couple of weeks, she called me. We were hired! She understood it would take time and money.
We started with website fixing and SEO at the same time. Google Webmaster Guidelines, and more importantly the Google algorithm are updated regularly, so just as a car requires regular maintenance to function properly, so does your website. A lot of people make a terrible decision to build a site and then to leave it in a state of disrepair for years and years. They eventually lose their rankings, traffic, and revenue, so it's important that you maintain your website.

Most of our clients are amazing, but about 10% of them don't listen to us, and they let their website go into a state of disrepair and so they eventually lose all the rankings and traffic that we work so hard to gain for them and they end up unhappy. Okay back to Clare.
Our SEO for wedding planners will rank your website higher in Google and other search engines. This will ensure that people searching for your wedding and event planner services find you first and find you more often. Over time, your rankings will move up a few spots for different keywords every month, until you are ranking very well. Some keywords will rank number one, some will rank number two, some will rank number three, etc.
But that's as low as we want to go, we don't want your important keywords ranking lower than spot 3. When your website ranks well in search results, you'll get more visitors, and those visitors will be people who are already searching for what you offer, so they're ready to do business with you. In Clare's case, we started with SEO basics while fixing her website at the same time. We started by setting up her Google Search Console and Bing Webmaster Tools. We then set up her Google Analytics account. After installing an SEO plugin, we had to configure it. That took a long time because she had so many pages, photos and wedding planner blog posts.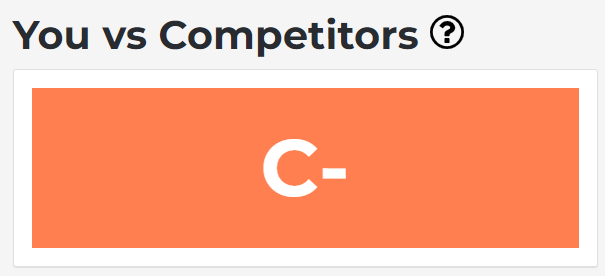 We double-checked her site map and submitted it. After creating a robots.txt file for her, we checked Google Search Console for manual actions a few days later. We found no manual actions, but there were plenty of alerts. Now, for those of you who don't know, Google Search Console is extremely aggressive these days. It is impossible for you to know what they will nitpick about your website until they do. Having received the alerts, it took us a couple of weeks to fix them all.
Google had indexed her website properly, so we moved on to the stage of keyword research. We identified her competitors, for keyword research for both her website and her social media. After conducting a keyword gap analysis, we determined what her main money making keywords would be and overall SEO strategy. This is different for every website, you don't want to just copy another wedding planner because that's sloppy. Make sure you do your research thoroughly. You want to be comprehensive if you want to succeed in digital marketing.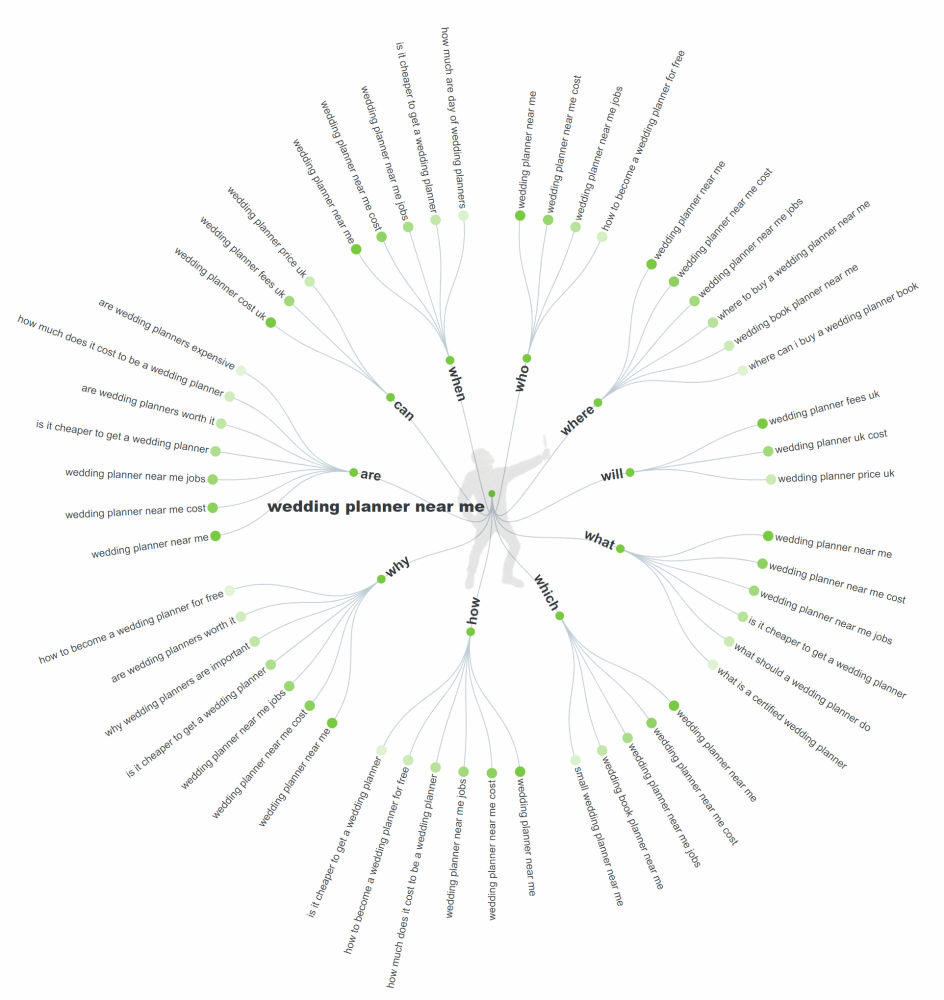 The key to figuring out which keywords will land you the most paying customers, is to be very data-driven and scientific. Her long tail keywords and variations were identified, as well as some interesting question keywords that would drive her revenue. In order to create a basic keyword map, we analyzed the intent of top-ranking pages and keywords.
We prioritized the keywords based on search volume and intent. That basically took us to around the end of month two. There were no increases in revenue, and there were no increases in traffic yet, as we were just in the beginning stage of a very long process. But there was a small bump in her rankings for some important keywords, which is good. We moved on to technical search engine optimization, where we leveraged some of the features in Google Search Console and Google Analytics. We double checked to make sure that her website was completely mobile friendly, and that it had a very fast loading speed.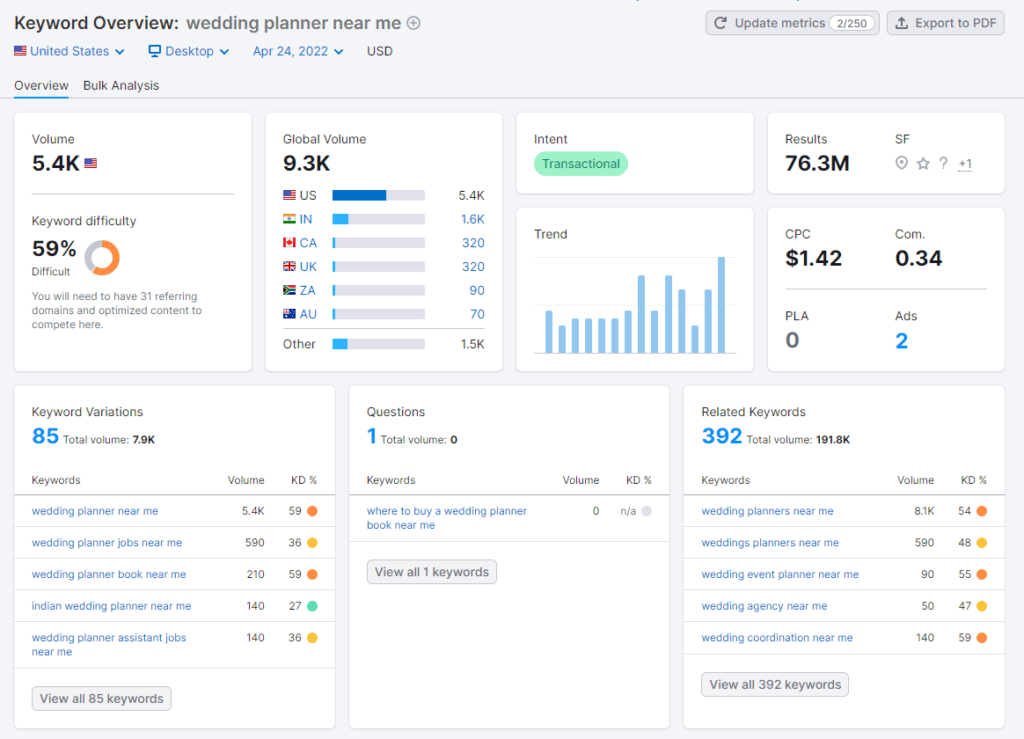 SEO for event planners follows the same strategy
To get her website to load faster, we had to optimize many wedding photos and videos. Her website load speed went from a 14 second load time down to 2 seconds. According to Google Search Console, she had one or two crawl errors due to SSL issues. That took a couple of weeks to resolve. Based on the original website that she designed, her page depth was too large, so we fixed it, as well as fixing duplicate content issues and broken internal links. She wanted to eventually expand into an event planning business (for large corporations) so we mapped out event planner content ideas and wedding blog ideas and structured the website accordingly in addition to her wedding keywords and. Her URL structure was not SEO-friendly, so we rebuilt that. We fixed a couple of orphan pages and added structural data, so that took a couple weeks.
We then focused on on-page content. A lot of businesses put up sloppy websites, or they even put up websites that look beautiful but are actually sloppy in the eyes of Google. Next, we fixed the duplicate missing and truncated title tags, and meta descriptions on the page. She was missing all of her heading tags, so we had to put H1, H2, all the way up to H6 on every page, which is what we like to do for most, if not all of our clients depending on their budget. In terms of improving the title, meta tags, and the content of the page, that takes the most time since there's a lot of back and forth with the client to say, "Hey, Clare, this is what would rank better and would make more sense to your actual visitor, your potential customer".
SEO tools we used for Clare's wedding planning website
Google search console
Google analytics
Google search
Lighthouse
Moz
SEMrush
SimilarWeb
Majestic
GTmetrix
Icaan Whois
Sucuri
BuiltWith
Answer the public
Google keyword planner
Google trends
Haro
Google business profile
We pruned a lot of content and optimized images for SEO. It's common for people to upload a picture taken with their camera to their website. When in fact, there are a lot of things you have to do, such as cropping the image, compressing it, and naming it properly. Sometimes, if you have lots of images on a page, you're going to convert it to a modern image format instead of a JPEG or a PNG. In any case, we updated her content and dramatically improved her readability score. She went from approximately a 30 out of 100 readability score to a 90 out of 100 readability score, which was excellent. We are now at the end of month four. At this stage, her traffic and rankings had both risen significantly.
By this point, her phone is ringing. People are saying, "Hey, I found you through Google, how much will it cost to book this wedding? Please book my wedding". We then moved on to off-page. Off-page SEO takes time. Those who don't know what they're doing think, "SEO, it takes 20 minutes, and then it's done." When in reality, it never ends. It's a continuous process.
If you stop, you're going to suffer, or if you don't suffer, you're certainly never going to reach your full potential. For off-page, we're analyzing Clare's competitors' link profiles, we're doing intersect analyses, and we're looking for backlink opportunities. Since day one, we've been building backlinks, but this is the stage where we focus on generating high quality links from authoritative assets. We leveraged some digital press and we turned some unlinked mentions into links, that means that sometimes people will make a blog and they'll say, "Hey, check out Clare,…". She had a couple of those, but they didn't actually put a link to her website.
We reached out and said, "Hey, thanks so much for writing that wonderful article. Would you mind adding a link?" After doing that, the number of backlinks she gained was going up bit by bit. Her upward momentum was exactly what both she and we were seeking. Finally, we created her Google My Business profile, which wasn't necessary on day one. You can take your time. It's important not to put the cart before the horse, so to speak, and to go step-by-step. Be methodical and pragmatic.
So we went ahead and set up a Google My Business profile because the revenue was starting to increase as we did citations. There were so many other things we did, hundreds and hundreds of other little steps here and there, that I won't go into detail here. Now we have reached the end of month six, and the progress has been tremendous. It has just been unbelievable. Her rankings have improved significantly.
Her traffic and revenue were way up. At this point she wanted to see if she could scale this further, so she had increased her budget with us.
We then moved on to conversion rate optimization. We want to optimize your website for conversion rate optimization so that a larger percentage of your visitors become paying and repeat customers instead of just leaving your website and going to your competitors. A website that converts 1% of visitors into customers is very different from a website that converts 20% of visitors into customers. That's an exponential improvement. The process involves many steps, so here's what we did for this client. First, we hired a focus group. Twenty people matching Clare's target demographic visited the website and they said, "Here's what we like, and here's what we hate. Here's why we would hire Clare to do our wedding. Here's why we wouldn't hire Clare."
SEO activities we completed for Clare's wedding planner website
SEO basis
Keyword research
Technical SEO
On-Page and content
Off-page SEO
Then we hired a color scientist to examine the colors on her website and determine what would be the best colors for a wedding planner. The logo was spruced up by a graphic designer, and then we looked at user experience. How do people interact with the site? We noticed that they were going from the homepage to a frequently asked questions page, so we highlighted the frequently asked questions page and improved the overall user experience. That brings us to the end of month eight. The progress of the campaign continued to rise; more rankings, more traffic, and more revenue. After that, we built up user trust. Clare, after each wedding, you're going to call your client. You're going to say, "Hey, if you enjoyed my work, can you please go to my Google My Business page or my Google Profile and please leave me a review?"
CRO work we completed for Clare's wedding planning business
Focus groups
Color science
Graphic design
User experience
User interface
Website trust
Website authority
A/B testing
Press releases
Social media content creation
Some people didn't because they were too busy. At Overflow Cafe, probably 99% of our happy customers are too busy providing service to all of their customers to leave a review. Usually it's the unhappy clients with no customers who have all the time in the world. Still, we have hundreds and hundreds, but you get the gist of it.
As her reviews went up, and up, everything else went up. We continued A/B testing on her site. To further improve her website's headings and title tags, we analyzed industrial and consumer psychology. This took us to month 10, and again, rankings, traffic and revenue. Clare also decided to do some press releases. She wanted to be in all of the various wedding magazines and wedding websites, so we did press releases. We reached out to all of them. On various social media sites, on Instagram and on YouTube, we reached out to the big wedding channels, and did much more than that. There were a lot more things we did, but this basically takes us to the end of month 12, and the progress was quite impressive. The results exceeded her expectations.

At this point, we would typically move on to pay per click, but Clare was so happy, she was actually so overwhelmed, that she had to hire people. She was doing multiple weddings every week, all over the world, which was an extremely difficult schedule to manage. We continued to provide ongoing website maintenance and SEO, and the client saw substantial increases in rankings, traffic, and revenue, which at that point was exponentially higher than when she started with us. In the end, or at that current moment, her website is fixed with an average score of about 90, out of 100 for each and every page. Currently she is ranking for over 425 very profitable keywords and phrases related to wedding planning and wedding planners. She went from zero to over 3,500 monthly visitors from people who find her through Google Search. However, in addition to the 3,500 visitors through Google Search, you add in social media, then you add in clients referring to her and you add in clients that are just repeatedly visiting her website, you're talking about 7,000 plus visitors per month. Her conversion rate is about 5%.

There is a slight decrease during the winter, and then a significant increase during the warmer months. As of this case study, her annual revenue is north of $550,000 most of it being profit. This is far above the average wedding planner salary. Here are some important points of what I enjoyed, and what I did not enjoy. Working with the client was easy. For me, the most challenging thing was when her revenue grew (we see this with a lot of our clients when they do not have revenue), they have a lot of free time. So we call them or we email them and they respond the same day. Clare's revenue progressively increased, so she became more busy planning weddings, and so we would email her and it would take her a couple of weeks to respond. I felt as if that slowed down the process because she'd say, "Okay. Well, I'm not even in the country for another two months with several weddings. Can I get back to you?" We'd say, "Okay. Well, we'll continue with building backlinks and citations and doing other stuff, but we really would like to hear back from you so that we could finish this other stuff here." SEO has hundreds of moving parts, and it's hard for my team and I when we're stuck, waiting for a client.
Concluding Clare's wedding planning website project
Clare is still with us, obviously. Our focus is more on maintaining her gains. She doesn't want us to increase revenue because her team can't handle the volume of weddings that she has to plan every week, and over 350 monthly emails and phone calls from people looking for a wedding planner. You can only plan so many weddings each year. Anyways, one last thing; Some clients reach their goals faster, and some clients reach their goals slower. We have some clients who come to us and they've reached or even surpassed their goal within three months or six months. Other clients take a year or two years or three years. Unfortunately some clients never reach their goal. It depends on many different factors, including what kind of business they're in, how many competitors they have and what their budget is. If you come to us and your budget is $10,000, obviously we're going to be able to do a lot more for you than a client who comes to us and their budget is $500. So you have to be very realistic and logical with your budget and your goal.
Thank you very much for reading this case study, we hope we can help your business and if you are looking for SEO for your wedding planning business please contact us and we will help you get started.