SEO For Car Detailing
Jason was referred to Overflow Cafe by his friend, who is also one of our current clients. Jason was looking for a digital marketing agency to provide him with local SEO for car detailing. Jason is in New York City, United States, and he offers car detailing. Jason says, "I started with nothing and Overflow Cafe worked with me step-by-step until I got where I wanted. We have more customers than we can handle now."
Jason started with no rankings, no traffic, and literally $0 of revenue. So, he came to us from scratch. Half of our customers come to us and they have absolutely nothing. Half of our clients come to us and they already have a growing business. So, we can help you no matter what stage you're in.
We increased his business revenue dramatically by building up and fixing his entire website, doing SEO, which is search engine optimization and CRO, which is conversion rate optimization. Jason enjoyed a dramatic increase in keyword rankings, backlinks, organic website traffic from Google, and other search engines, and most importantly, he gained thousands of new customers. My team and I spent hundreds of hours of hard work over the course of many months to achieve this growth, and the client is extremely happy with us and he's actually recommended a whole bunch of new friends to us. His company grows, our company grows. Most of our new clients come from referrals from our current happy clients, and we really, really appreciate that.
| | | |
| --- | --- | --- |
| METRIC | BEFORE | AFTER |
| Keyword Rankings | 0 | 270 |
| Organic Search Traffic | 0 | 1100 |
| Backlinks | 0 | 110 |
| Conversion Rate | 0 | 15% |
| Bounce Rate | N/A | 30% |
| Session Duration | 0 | 4:15 min |
| Audit Scores | 12/100 | 92/100 |
| Revenue | 0 | $500k |
SEO Services from SEO Experts
So, let's just go through the before and after chart. So, when Jason started, he was ranking for zero keywords and when we basically finished, not that you ever really finish local SEO, but at the moment he's ranking for about 270 quality keywords. He had zero backlinks in the beginning and when we finished our work, he had about 100 to 110 extremely high quality backlinks. When it comes to backlinks, quality and relevance means much more than quantity.
Now when we started, he had zero organic traffic and when we finished, or currently, he's getting about 1,100 organic visits every single month. His conversion rate was obviously zero because he had nothing to convert, and today his conversion rate hovers around 15%. Now, compare that to an industry average of about one to 2%. That's really good. His revenue was zero when he started and he's north of $400,000 a year. I think this year he's going to do north of $500,000, most of which is profit.
Anyway, he contacted us to book an SEO consultation and he told us his goals and budget. We started by researching his industry, and site in tremendous detail, to figure out what we could do within the given budget and timeline. Every search engine optimization project is different because the goal, budget, and timeline really dictates the plan of action. So, be careful of anyone who tries to sell you a one-sized-fits-all marketing approach.
We looked at over 200 search engine ranking factors that would be addressed based on Google's up-to-date algorithm and requirements for online businesses. It all starts with a presentation from one of our expert SEO consultants. You'll receive a comprehensive and interesting video presentation about your site, including your current rankings, organic search engine traffic, backlinks, competitors, and much more. We'll tell you exactly what we can do for you, so that you reach your goals.
Then we'll talk by phone or video call to work out the project details. Depending on your monthly budget, we'll design the perfect SEO strategy. Usually, we start by designing or fixing your website, then SEO to improve your rankings and search engine traffic. Then we move on to conversion rate optimization to convert more of those visitors into paying customers.
Then if you want, we can scale up further using pay-per-click Google Ads to reach your entire audience across all platforms in the most profitable manner possible. Some companies get to the pay-per-click stage, which is the last stage, and they decide not to do pay-per-click ads because they're already getting too much revenue from our SEO work. Almost all of our clients end up canceling their other advertising because they simply don't need it after we've finished with their project, meaning that they're getting enough search engine traffic to grow their business without spending additional money on other advertising and marketing.
Anyway, a few days later, we talked on the phone with Jason and he decided to hire us. He understood good SEO would take time, money, and mutual cooperation. Let me take a moment to explain why the above three factors are important by using the apple tree example. When you plant an apple seed, you see almost nothing for a long time. Then you see a sprout, and then a plant and a tree. And finally, that tree produces apples. Now, when it starts producing apples for you, it produces a lot of apples. I mean, hundreds and hundreds and hundreds of apples, and it produces those apples season after season, for many, many years.
One seed leads to one tree and hundreds and hundreds of apples, but it takes a long time to actually start seeing apples. You don't plant an apple seed today and then start eating apples from it tomorrow. It takes time. In order for your online business to succeed, you'll need a combination of time, money, and mutual cooperation with us. This means working hand-in-hand with myself and my team when required. For example, it's really discouraging when we email our client and they take dour weeks to get back to us, because it holds up the project and the progress.
It's really discouraging when the potential client has a massive goal and a tiny budget. We get over 100 SEO consultation requests monthly, and some business owners want us to build a website with 500 pages to dominate not just an entire local area but to dominate an international market, meanwhile their annual budget is a laughable $1,000.
It's really discouraging when the client wants to start a project today and then see results today. No matter how big your budget is, no matter how much money you have to throw at your site and search engine optimization, search engines don't work that way. Good search engine results really take time.
So, once Jason gave us the go ahead, we got to work on his website design. By the way, when you work with us, every month you'll receive several useful progress reports. Some are from our team and some are from Google. Those reports cover the KPIs, key performance indicators, that you care about. You'll continue to move your company and site up and forward towards your goals each month in search engines and once you reach your goal, we'll switch to maintenance mode so that your competitors don't overtake you in SERPs. SERPs means search engine result pages.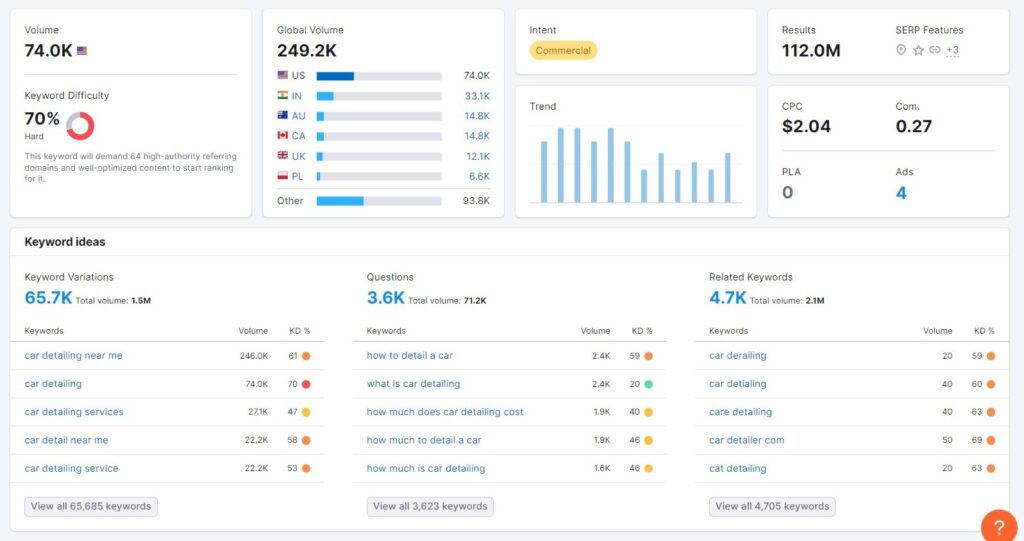 Website Design for Auto Detailing Business
Okay, so website design. Google updates their ranking algorithms several times each year, which slightly changes the way that search engines work. So, just like a car requires regular maintenance to function properly, so does your site. Most site owners build their websites to suit themselves only. Smarter site owners build their websites to suit both themselves and their potential clients. But the smartest site owners build their websites to suit themselves, their potential customers, and Google.
Google has a comprehensive list of requirements and the list seems to get longer each year. It's hard for business owners to keep up, and this is why it's important to have someone like Overflow Cafe working for you. During our initial SEO consult, we'll show you what needs to be fixed, including proof. If you make Google happy, they'll make you happy.
Every week we hear stories from people who pay cheap, unskilled designers to fix their online presence, and that designer destroyed their entire business. They then have to pay exponentially more to get everything fixed properly, plus to remove their Google penalties. Be smart, pay an expert to get it done right the first time, so that you can avoid wasted time and money, not to mention stress.
Our team is incredibly good at digital marketing, including SEO and SEM. SEM means search engine marketing. We've been featured in over 100 respected trade shows, TV, and podcast interviews. We turn down interview requests on a weekly basis because we're too busy. We've been nominated and have won awards, including Entrepreneur of the Year, Best Digital Marketing Agency in Ontario and Top SEO Agency in Canada. We have many wonderful clients all over the world who sell all kinds of products and services. We know what we're doing. We won't even take on your project if we can't help you. And when we do take on your project, we work on it with 100% passion and dedication. We want you to succeed so badly.
Once the client gives us access to their website, the first thing we do is log in and take a thorough look around. What kind of setup do they have? What's going right? What's going wrong? I like to take a look at any current stats they have, including error logs, even server logs, depending on how big their setup is. Whether their platform is WordPress, Wix, Squarespace, Shopify, or anything else, I like to look at each of the settings that they have active.
Sometimes just a few hours of fine-tuning results in exponential growth just on its own. Media folders, pages, posts, how many pages are there? Have they been optimized? What are the content scores? What about code? I like to remove unused or unnecessary plug-ins. I like to add plug-ins that will be useful to helping the client achieve their goals. I like to remove things that are not being used, whether that's media files, plugins, and depending on the client's budget, even cleaning up the code on the backend.
Sites like Wix and Shopify often have way too many apps that slow down the loading time. Removing unnecessary or unused or underused apps alone can often result in much faster progress, and I'm talking about exponential progress. It's not unusual for me to remove several hundreds of lines of unnecessary code to make a website function better overall. Then I'll take steps to improve site security and make it less vulnerable to malware, viruses, and hacking attempts.
I'll look at the whole website audit and setup, including the permalink structure, redirects. I'm extremely pragmatic and methodical, so the work is completely perfect. Now, depending on the size of the client's website, I'll spend time going through everything, sometimes several times, so that I can generate a comprehensive plan of action, which I'll share with other benefits of the client as we progress step-by-step, so that they know everything I plan to do and everything that I've actually done.
If the client already has traffic, usually their conversion rate goes way up immediately after I fix things properly. This leaves the client with a good functioning website that doesn't have any errors or any real problems, and that has a good foundation to move forward regarding keyword rankings, website traffic, and importantly, their conversion rates and increased sales.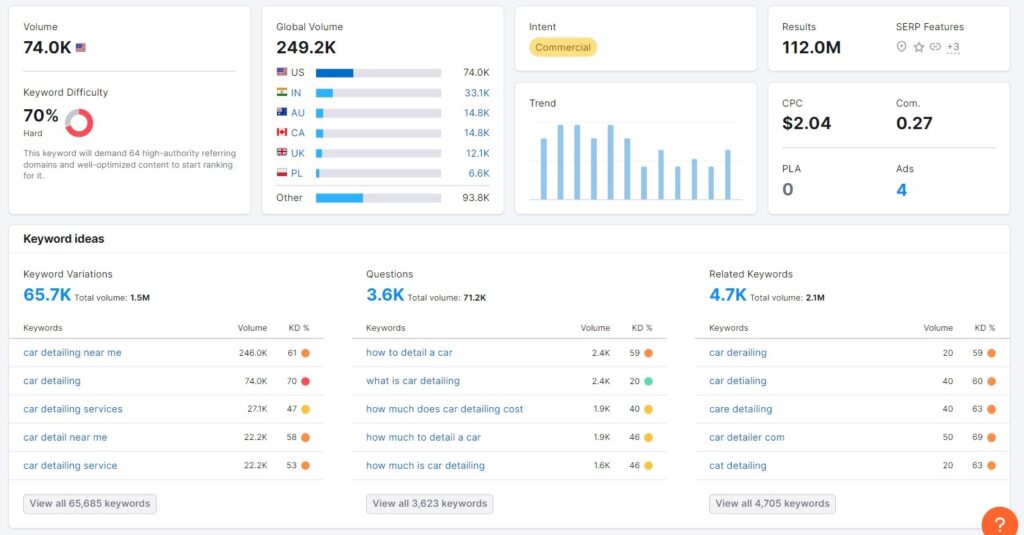 SEO Tools Used For Auto Detailing
By the way, here's some of the free and paid SEO tools we used to complete this project, Google Search Console, Google Analytics, Google Lighthouse, Bing Webmaster Tools. Yes, it is important to optimize for other major search engines. Rank Math, Moz, Semrush, SimilarWeb, Surfer, Jasper, Majestic, GTmetrix, Securie, BuiltWith, AnswerThePublic, Google Keyword Planner, Google Trends, HARO, Google Business Profile, and much more.
Different digital marketing projects require different tools depending on the end goal, but the above tools are always my first go-to, and I'll use some of them more than others, again, depending on the client's timeline, budget, end goal. For example, it's not unusual for me to spend 100 hours sifting through Google Search Console and Google Analytics data for a client's website, but the end result may be that I increase their sales by over 10X in less than a year. Like I said, it varies by project. If the client doesn't have a budget for this, then we realistically have to skip some steps. Either way, we ensure that we do great work so that search engines discover and rank our client's website pages for all the best keywords that drive revenue.
Search Engine Optimization For Car Detailing Website
SEO is when we rank your website higher in Google so that the people searching for your products or services will find you first and find you more often. Your rankings will start moving up a few spots each month for different keywords until you are ranking very well. When your website ranks well in search results, you'll get more visitors, and those visitors will be people who are already searching for what you offer, so they are ready to do business with you. And of course, the client received monthly reports from our team, Google Search Console, Google Analytics, Google Business Profile, Semrush, and sometimes even more. These monthly SEO reports show a wide range of metrics including detailed traffic and keyword ranking reports over 20 important metrics in total. Now, depending on the size of your project, some clients request less reports, some clients request more reports, and so, that's no problem.
Okay, let's get back to Jason's project.
Local SEO Basics for a Business Website
So, we started by checking to make sure that all of his content was up-to-date. Now, he really didn't have much. He set up a very basic website, it had nothing. And so, checking that it was up-to-date was easy. We had to actually build out all of his pages from scratch basically, because he just had a couple words of text on his website.
The next thing to do was to set up and configure Google Search Console and Bing Webmaster Tools. To answer your question, yes, other search engines matter too. Next, we set up and configured Google Analytics, including conversion tracking, set up and configure an SEO plugin. In this case, I used RankMath. Set up and configure a site map and include it in your Google Search Console. Ensure your robots.txt file is proper and does not block Google from rendering your site. Check Google Search Console for manual actions. Now, there were a couple dozen alerts on his Google Search Console that we had to handle, but there were no manual actions, so that was good for both of us.
Then perform a full indexing check. His indexing check failed. He had a whole bunch of errors on his website, and I'm really, really glad that he came to us right from day one because it did save him and us a lot of time. So, we fixed up everything quickly. It took about 20 days to do the SEO basics.
Keyword Research for Car Detailing Businesses
There are so many good keyword research tools out there, but effective keyword research takes a lot of time. The bigger the goals, the longer it takes. You don't just want a list of keywords. You want relevant keywords that will actually drive an increase in revenue. So, here were the steps. Identify your main competitors and research them. Conduct keyword gap analysis. That means now that you know who your competitors are, and yes, you do have competitors, no matter what you think. You want to take a look at what your competitors rank for and what you rank for, and where's the gap?
Find main money target keywords. So, these are the ones that you absolutely have to rank for. They are the keywords that are going to really drive traffic and revenue to you. Find the long tail keywords, find question keywords. Research what search queries your competitors are ranking higher for. Analyze the search intent of pages that rank. Create a keyword map. So, what do I want client's homepage to rank for? What do I want the other pages of his website to rank for? Prioritize by search volume and keyword difficulty.
And then the final stage of keyword research, set up tracking and reporting for your most important keyword. The client does car detailing, but he doesn't offer car detailing for the entire world, just for New York City, and specifically, really, Manhattan. Although he has been expanding, I mean that was in the beginning, he's now been expanding.
So, let's take a look at, for example, the phrase car wash and detailing. Every single month in the United States, 74,000 people search, "Car detailing and car wash." This is a very difficult keyword to rank for. It would require at least 64 really high authority referring domains and well-optimized content. Okay. However, there's 65,000 variations that total over 1.5 million monthly searches, so there's a lot of potential customers to be had in the United States for a car wash and detailing.
There's, "Car and auto detailing, near me." 246,000 people are searching for that every single month. "Car and auto detailing services." 27,000 people are searching for that every month. "Car detail near me." "Car detailing service." There are also 3,600 questions that people ask Google every single month, and those 3,600 questions total over 70,000 monthly searches a month. So, "How to detail a car?" 2,400 people search that every month. "What is car detailing?" 2,400 people search that every month. "How much does car detailing cost?" 1,900 people search that every month.
And so, we wanted to create a frequently asked questions page for our client, so that he was answering not all of these questions, but many of them. And actually, that one frequently asked questions page drives over $100,000 a year of revenue to the client. Now, there are 4,700 related keywords that total over 2 million monthly searches. Now, the client's budget was not big enough to target all of these, so we had to be very specific about target the specific keywords were. So, we decided to go with, "Car detailing NYC." NYC stands for New York City. So, "Car detailing NYC." There are 210 people who search that in Google every single month.
The keyword difficulty, it's about 37 out of 100, so it is competitive. The client needed a bunch of really high quality backlinks and excellent content. The client had a reasonable budget for this, and there were 43 keyword variations that totaled about 280 monthly searches, and so we were able to build out content to target those 43 keyword variations. "Car detailing NYC." "Best car detailing NYC." "Car interior detailing NYC." "Mobile car and mobile detailing NYC." "NYC car and mobile detailing."
And by the way, go to your computer, go to Google, Google some of local keywords for those phrases. Yes, that's our client that's taking up the number one spot for all of those things. Now, there are 271 related keywords that total over 69,000 monthly searches. So, "Auto detailing NYC." "Best car detailing NYC." "NYC auto detailing." "Car detailing in New York." And yes, we targeted each and every one of those phrases. Some of those phrases we clustered into one specific page of the client's website. And then other phrases were so big, that had so much search volume, that we created a completely separate page on the client's website to target all of that traffic.
We set up tracking in SEMrush, and we started building out the pages. And the client started on, let's say for example, Google page 10, spot number 10. So, spot 100 in Google, and then we built out really good content. And then the next month the client was on spot 90, and then spot 80, and then spot 50, and then spot 20, and then spot 10, and then the next month, the client was on Google page one, spot five, and then spot three, and then spot two, and is now spot one for all of those phrases that I just listed out to you. So, it takes time, but boy, oh boy, is it worth it, because the client has way more customers than he can possibly handle.
Anyways, there's a whole lot more to it than that, but let's move on to technical SEO.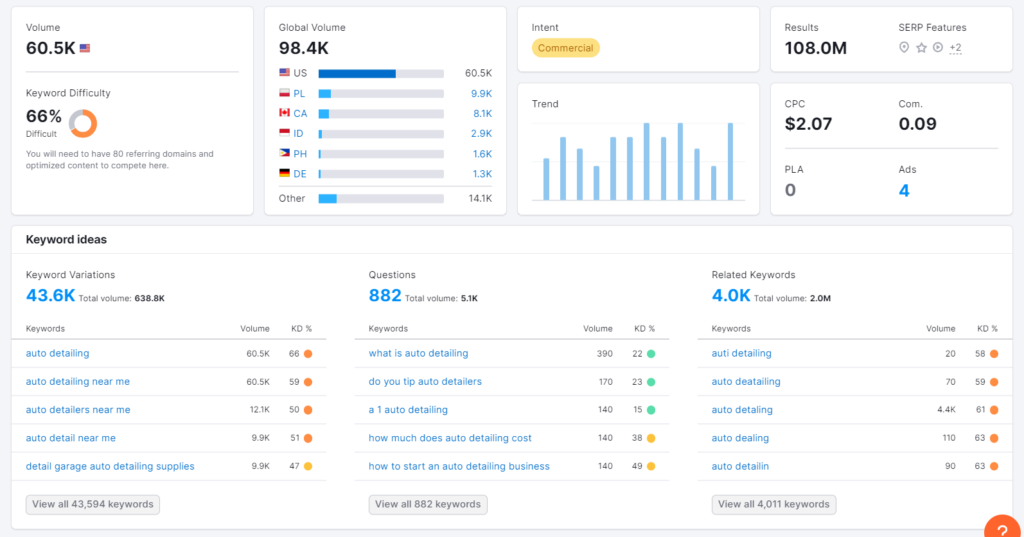 Technical SEO for Car Detailing Business Online
Your website architecture matters more than you think. You wouldn't want to live in a house or a building that didn't have good architecture, right? So, we have to start by inspecting your URLs in Google Search Console. Ensure that your website is mobile-friendly. Run a lighthouse test and fix all of the errors. Obtain excellent scores for Google Core Web Vitals. Ensure that your HTTPS is working properly across all pages. Fix any crawl errors. Ensure the page depth is okay. What does that mean? So, when someone lands on your website, if they're looking for something specific, they should be able to find it in three clicks or less. If they have to click their mouse more than three times to find the page that they're looking for, your website is not structured properly.
Okay. Next, we had to remove duplicate content, fix broken internal links. Ensure an SEO-friendly URL structure. This was a big one because when the client set up his website, it was basically total nonsense. Most people have no idea what they're doing. So, we went ahead and fixed the URL structure. That alone probably saved him two years of time. Fix orphan pages, check canonical tags and code and add structured data.
So, this part was fairly easy. The client is on WordPress, and so a lot of this ran smoothly. It took us about a month to do all of that, and we moved on to on-page SEO.
On Page SEO for Mobile Detailing Business
On-page optimization is another important step that can take many months depending on the current or projected size of your website. Obviously, if your website is 10 pages, well, it's not going to take very long. If your website is 200 pages, on-page SEO is going to take a very long time.
Each page of your website takes many hours to improve. So, e-commerce heavy sites are usually more expensive and time-consuming to build and maintain than simple service-based websites like Jason's, for example, was fairly straightforward. Of course, during this entire process, we've taken a look at competitors and other pages that rank higher, to see what they're doing right and wrong and where we can outrank them.
Fix duplicate, missing, and truncated title tags. Find and fix duplicate or missing meta descriptions. Find and fix multiple H1 tags. Now, I like to, especially for pillar content, content that is extremely important to rank for, I like to have H1, H2, and H3, at the very least. I'm actually writing a piece of content this week that actually has H4, H5, and H6. It is a 10,000 word article. It's already spot number eight in Google, and it started at spot about, basically nowhere, so like spot 100, last month. So, imagine going from 100 to spot eight, and I haven't even refined it yet. Once I properly refine it, it's going to go spot five, spot three, spot two, and spot one. And that one article is going to generate probably $200,000 of annual revenue.
Next, we improved his slugs, meta tags, including title tags and description tags. Run a relevant content audit and prune irrelevant content. Optimize images for SEO. Organize topic clusters. Find and fix keyword cannibalization. Now, you might think, "Wait a minute, he mentioned some of this stuff at the beginning." Yes, a lot of these steps have to be repeated over and over. You will oftentimes rinse and repeat. You get down to the end of a list, and then you have to go all the way back up to number one, and you log back into Google Search Console to see what Google Search Console thinks about all of your improvements, and you continue to refine and you continue to refine.
So, when the client started out, his score was basically zero out of 100. And so, after month number one, his score was 20 out of 100. Month number two, his overall score was 40 out of 100. Month number three, his score was 60 out of 100. Okay. So, he was already basically at that stage average in comparison to his many, many, many competitors who were also doing car detailing in New York City. Then we got him to 70 out of 100. Then 80 out of 100. Once you get to that stage, it gets very difficult to move forward. Then 85 out of 100. Then 90 out of 100. Then 92 out of 100. 94 out of 100. And so on and so forth.
Okay. Update outdated content, create content, and more importantly, high quality content, including both web pages and blog posts. We spend a lot of time creating content and content marketing. Improve readability so that your potential clients, customers and search engines understand your content. Search engines love high quality content. This is one of the main SEO fundamentals. So, don't keyword stuff. Make your content the best in your industry, and you'll see search engines rank you quickly and right at the top.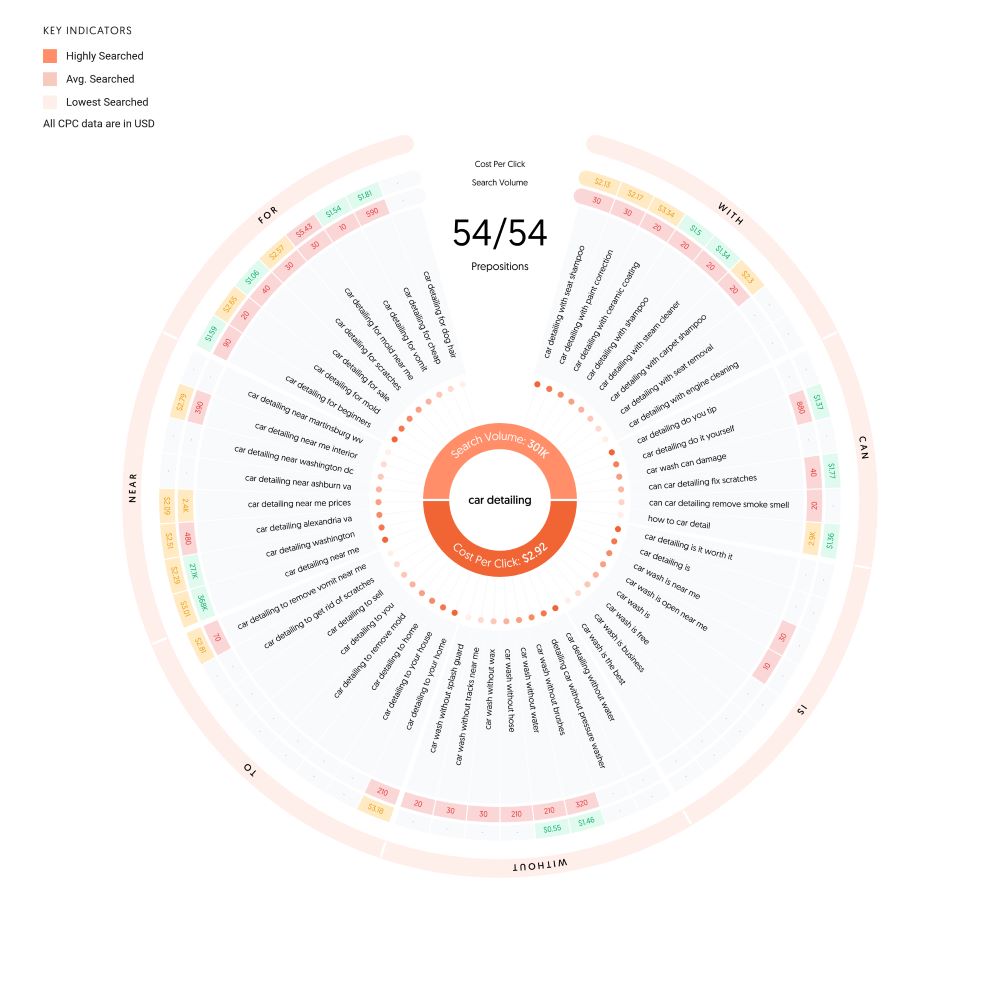 Backlinks AKA Link Building, AKA Off Page SEO
This stage link building strategy is usually called off-page SEO because much of the work is done off of the client's website. Analyze competitor backlink profiles, conduct a backlink intersect analysis, target your competitor's broken backlinks, guest posting outreach, and build websites with the best internal link structure. This alone pushed our client up over 200 spots in total in Google Search, in less than three months. We looked at all of his webpages and there weren't very many, but they were very high quality, and we thought, "What can we link each of these pages to?"
So, the homepage links to all of the main pages, the main internal pages, but then a lot of people, most people, in fact, the internal pages link to nothing. Do you know that if you link from your homepage to your contact page, well, your contact page gets a boost? Because where are most backlinks pointed to? Most backlinks are pointed to the homepage of any website. Pull up SEMrush, pull up Moz, pull up Ahrefs, and take a look. Most backlinks are pointed to the domain name, not the internal pages. And so, your domain name, your index page, your homepage has the most authority. And so, what you want to do is link to your important internal pages, but then let your internal pages rank to something as well. We build the best internal linking structure. After that, build the best external link structure.
Building proper internal and external links shouldn't, should not be done too early in the process. A lot of people start and they say, "Hey guys, could you start today and just build me a whole bunch of backlinks?" "Well, no, your website sucks. So, let's spend three months building a really good website. Then let's spend three months building really good content, and then let's start building backlinks." And half the clients, they say, "No, no, no, no, no, we don't want to do that. We'll go with someone else." And we check with their website a year later, and it's usually out of business or it's just moved sideways. On the other hand, the people who cooperated with us, they've doubled, they've quintupled, they've 10X-ed their traffic. Okay. Building proper internal and external links should not be done too early in the process.
Next, leverage digital PR. Oh, we love this. So, once we got to this stage, the client was really happy, was making a lot of money by this stage, and so he increased his budget with us, and we were able to get a really good digital PR person in New York City, who got him really good positive press, which resulted in a dramatic increase in the number of backlinks, quality backlinks, which then boosted his rankings, which then boosted his organic traffic too, which then boosted his revenue. Absolutely wonderful snowball effect.
So, we used the skyscraper technique to build out backlinks. We turned unlinked mentioned into links. What that means, for those of you who are wondering, there were a lot of news articles and social media mentions of the client, and they were mentioning his full business name and mentioning his website, but they didn't actually make a link. There was no live link to his website that you could click on. So, we took the time to reach out to all of those people and we said, "Hey, you mentioned our client. Would you actually put a link to his website?" And not everybody did it. Many people ignored us, but enough people responded and added a link, to the point where it's going to be impossible for a competitor to dethrone our client at this stage.
Then finally, we set up and optimized the client's Google Business Profile because of course, you need a Google Business Profile when you're a local business. You need people to leave you, hopefully, five-star reviews, and so on and so forth. We also ensured he had every local listings backlink possible. Now, there's a lot more. I mean, we just can't list everything here, nor do we want to. I know my competitors read each of my case studies.
Digital marketing, website design, SEO, CRO. It takes hundreds and sometimes thousands of hours. It really is a full-time job, and depending on the size of your company, can require multiple people full-time. Google updates their algorithm several times per year, and so, SEO is an ongoing process if you want to grow and maintain your search rankings. And by the way, I'm glad my competitors visit the Overflow Cafe website. They often hire us to collaborate on projects that are too large for any one digital marketing agency, and I respect and appreciate that a lot. The client's keyword rankings and organic traffic, were moving up rapidly each month.
Conversion Rate Optimization (CRO)
In this stage, we will optimize your website so that a larger percentage of your visitors turn into paying and repeat customers instead of just leaving your website and going to your competitor. This is called conversion rate optimization or CRO. There is a very big difference between a website that converts 1% of visitors into customers and a website that converts 20%. This is an ongoing process involving many steps.
So, here's what we did for this client. Number one, focus groups. Oh, this is a really, really fun stage. So, focus groups, what we did, we gathered 100 people who were in or around New York City and we said, "Hey, take a look at our client's website. What do you like about it? What do you hate about it? You only have one minute to actually take a look." And they told us what they liked and they told us what we hate. They talked about the colors, the graphic design, the user experience, the trustworthiness of the website. And we went ahead and we fixed all of the problems.
And then all of the things that they really enjoyed, we tried to move those things and make them prominent higher up on the pages. So, we got a color scientist to modify the colors. We got a graphic designer to fix up the logo and some of the images. We looked into user experience science. Somebody who's in New York City who has a car and they're willing to spend money to get it detailed, what kind of user experience, what kind of trust symbols or credibility signs or authority signs do they want to see on a website?
We also did A/B testing for multiple pages. Of course, I talked about press releases and mentions, social media content creation services, social content strategy services, media marketing and content marketing. Sometimes there's a piece of content that we create that's so good and it starts generating money for the client and the client wants to scale up on that content. What we do is we do content marketing. We take that piece of content and we try to promote that piece of content everywhere, so that it gains even more backlinks and thus, rankings, and thus, revenue.
Now, some of the data that we like to look at includes, what top keywords do people use to find your website? How many impressions did you have in search engines? What's your click-through rate? Average position in search results? What country are they from? Time of day did they purchase? Day of the week? What pages do users visit the most versus least? What pages do they spend the most time on? What pages following services do they exit your website from?
We found out that there was a certain page where a lot of people were leaving Jason's website, and we had to figure out why were they leaving on this specific page and what could we do to fix up the content on the page so that it wasn't turning off the user? And we did that.
Okay. User retention. How often do your visitors come back? How many times did they visit before actually booking your car detailing service? What technology are they using? When they visit your car detailing website, are they using a Windows laptop, Mac, Linux? Are they visiting your website on their desktop computer, on their mobile device like their iPhone, or a tablet? What are their demographics? Are they male or female? What age group? And so on. What are their other interests? And much, much, much more.
And this is important because the more we know about the paying customer, the easier it is to scale up and find more of those customers. A much larger percentage of people were actually booking car detailing services with Jason instead of just leaving the website and going somewhere else. These are some of the most relevant results when it comes to growing your business. Now, by this stage, our SEO efforts have paid off exponentially. Keep in mind, the client was making $0 per year when he came to us and is now going to reach north of $500,000. He has way more money than he ever wanted.
Pay Per Click and Digital Ads
Now, once your website has good design, SEO and CRO, we will usually scale up your revenue much further by using pay-per-click and other digital marketing methods across Google, Facebook, Instagram, Reddit, and many other websites that your potential customers spend time on. Most site owners make the mistake of doing pay-per-click, PPC, when they have not optimized their website for SEO and CRO, and then they fail.
When your website is fully optimized, PPC will be completely predictable and profitable with a big return on investment. PPC is complex. It involves a lot of skill and work. The client was extremely happy with the progress obtained thus far, and wanted to skip this step entirely. He could not handle any more customers. He had to hire a lot of people. He is extremely happy.
And that takes me to the conclusion.
Conclusion of our SEO Campaign
The client is still with us. We are focused on just maintaining his gains. Okay. Important notes. What I enjoyed, what I did not enjoy. So, what I enjoyed. I enjoyed doing a project right from scratch. The client was extremely cooperative with us. He didn't argue with us. I didn't have to waste time on the phone. Some people, they like to argue. That's probably some people, their best skill is arguing, and I hate that, because it's a waste of my time. And so, this client didn't argue. I said, "Hey, here's what I think we need to do." And he said, "Okay, yeah, I think that's good. That works."
Okay. What I did not enjoy. Well, I'll tell you what I did not enjoy, the client didn't always understand a lot of what we were doing, even though he said yes, he would sometimes come back and complain about how long things were taking. For example we spent one whole month building out one page of content for the client. Now, that one page happens to be the homepage. And he wasn't happy at first, and he said, "Oh, I feel like you wasted a month on just the homepage." And that homepage now drives so much revenue for the client, 2,000 times more than what he paid us to do it, and that's ongoing revenue.
So, he's extremely happy now, but it is a little bit tough when the clients, they don't understand what you're doing. You sometimes have to accept that. I go to the doctor and they want to do stuff that I don't understand, but I just have to trust that if my doctor is good and I trust my doctor, then I just have to let my doctor do what my doctor needs to do. If you hire us, you do have to accept, if I say, "Hey, this is going to take six months. Backlink outreach is going to take one-and-a-half years." Yeah, it will.
Some clients reach their goals fast and some slow. We have some clients who literally reach their goal within six or nine months. Other clients take one or two years. It depends on many factors like the type of business you're in, how many competitors you have, and of course, your budget and your level of cooperation with us. The main thing is you'll move forward a little by little each month until you reach your goal.
Well, that's all for today. Reach out to Overflow Cafe if you're a site looking for better search engine rankings, more traffic and more revenue. Whatever number of keywords you have showing up in organic search results right now, we can probably double it in less than a year. Every day, we help clients all over the world dominate search engine result pages. We have so much SEO knowledge, we'll help you reach your goal faster and less expensive than if you were to do it on your own. Have a great day!
How can I promote my car detailing?
Overflow Cafe helps car detailers and all kinds of other businesses succeed online using digital marketing, SEO, SEM and PPC. Check us out. We're the best auto detailing marketing agency.
What is the market for auto detailing?
It's massive, there are hundreds of thousands of people each month searching for auto detailing, car detailing, truck detailing, premium car washes for both the inside and outside of their vehicle. We can help you select the best auto detailing keywords.
How do detailing companies get clients?
Many different ways both online and offline. We recommend starting with a good auto detailing website design, even using auto detailing website templates if needed. Then SEO for rankings and traffic, then CRO to convert visitors, then PPC to scale if you want to. If you do a good job, your customers will come back to you several times a year and recommend people to you. There are a lot of people looking up "car detailing near me" in Google each day.
How to grow car detailing business?
If you do a good job, your customers will continue to come back several times each year and they'll recommend new customers to you.